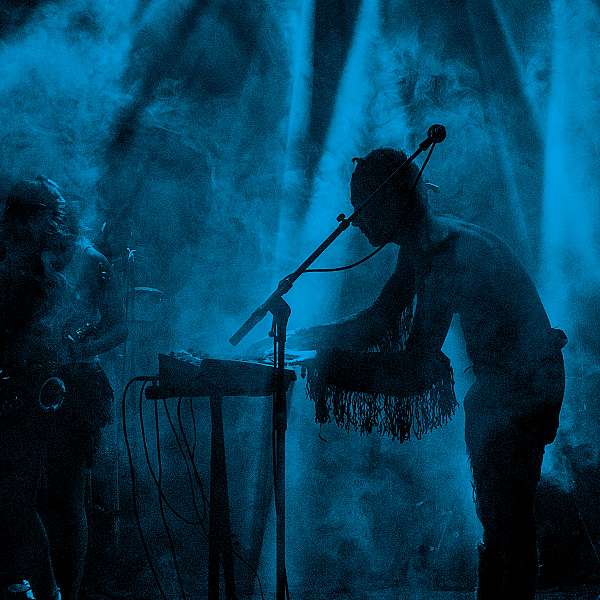 AMSTERDAM DANCE EVENT
E \ E | E x Pllek Live Stage present:
A Night Of Live Electronic Music

21.00 - 21.30 Hollt
22.00 - 22.45 ZES
23.15 - 00.00 CUT_
00.30 - 01.00 Crouwel
01.30 - 02.15 Sjamsoedin
02.45 - 03.15 Feiertag
(AM:Klub DJ's in between live acts)
- - -

Live electronic music and mesmerising live performances by some of the freshest acts around. If you want to experience a bit more than DJs mixing tracks, this where you need to be during Amsterdam Dance Event 2018. Expect breathtaking productions, impressive stage presentations and overwhelmingly good but seriously danceable music.

Genres:
Dance, Techno, House, Alternative, Electronic, Eclectic

- - -

Z E S
Tilburg producer ZES scores with his EP 'Hindsight' and specifically the hitsingle 'Do It Again' millions of YouTube and Spotify plays in 2016. He creates futuristic and atmospheric electronics that are reminiscent to Flume and Four Tet but also Danish Trentemøller is never far. Live shows at STRP, PITCH, We Are Electric and Noisia Invites gave him a solid liveprofile. ZES has just finished his first real album.

S J A M S O E D I N
Amsterdam based Sjam Sjamsoedin has been around the electronic music scene for over fifteen years. He bought his first sampler in 1999 and has been experimenting with electronic instruments ever since, which culminated in building his own modular synth in 2014 to sculpt his own sound.
Sjamsoedin's live reputation is growing, with shows at Down The Rabbit Hole, Amsterdam Dance Event, World Minimal Music Festival, Best Kept Secret, Solar and Milkshake this year, Sjamsoedin is already presenting his new material in a performance full of electronica, house and techno ingredients. All created live on stage by man and machine.

C U T _
Electronic duo CUT_ took off rapidly after their rendition of Stromae's 'Papaoutai' went viral. They has since then played numerous shows, including performances at Lowlands, Pitch and ADE.
"We feel our music is a crossover between dark alternative electronics and edgy pop music. Trying to combine our love for the two, we've been very inspired by a new style of songwriting that's been greatly evolving the last few years. Acts such as Flume, Aluna George and Jamie XX paved a fresh way for us. One that we're happy to walk." (~ Belle Doron: vocals & songwriting)
CUT_'s finishing up their album and will be releasing singles of the forthcoming album very soon. Live a new dimension is being added to the show with a live drummer lifting the whole to another level.


H O L L T
Merging funky basslines and melodic tech-house with dreamy soundscapes. On stage, Hollt creates the perfect mix between techno and house, whilst having lots of fun with his audience and colleague artists. With his own label and studio, new releases and collabs slated and industry-wide support, 2018 will be the year Hollt is cementing his name in the scene.

F E I E R T A G
Feiertag is the alter ego of the Dutch live-act Joris Feiertag. Recording and performing since 2015, his sound can be described as electronic yet warm, and with a preference for innovative syncopated rhythms combined with fragments of instruments such as the harp and kalimba. Integrated with a varied range of international vocalists, creating a beautiful mix of chill, vibrant music easy to listen to which in return translates beautifully to live electronic dance-music.

A M : K L U B
AM:Klub is the alternative showpiece during dark nights. The DJ's within this collective will always provide a weird but danceable mix of underground hits, funky guitar records and the best dancefloor bangers.

C R O U W E L
Amsterdam based producer Crouwel lets you get lost and picks you up in a warm blanket of mesmerising sounds that keeps you moving all night long. Crouwel draws inspiration from greats such as Bob Moses, Weval, Âme, Dixon and George FitzGerald. His first EP will be out this autumn and includes collaborations with Bink Beats, Ariaan Olieroock (16 Bit Lolitas / Cubicolor) and Chris Mulder (Yakumo Orchestra).

- - -


Important information

- Pllek is a restaurant, so please walk through the restaurant all the way to the back to find the party at our Live Stage!
- Pllek Live Stage is a separate area for max. 350 visitors
- There's a smoking area outside, inside a tent w/ heaters
- There are lockers in the hall at the entrance of Live Stage (once you walked through the restaurant!)
- The kitchen is open until 22.00
- After 22.00 there will be NO food available
- Don't print your ticket, we prefer to scan from your phone
- There are tickets at the door (Costs: 13,50, but full = full)
- Tickets for Into the Woods visitors are 10,- at the door (by showing your wristband, also: full = full)
- Online tickets available until 20.00 tonight!
- Doors open at 20.30
- The first act starts at 21.00 sharp
- The party lasts 'till 03.15
- The last ferry leaves at 03.04
- Other departure times: 00:04, 00:49, 01:34, 02:19 (from NDSM through Pontsteiger to Central Station)
- The ferry is a 5-minute walk from Pllek, but count 8 minutes just to be sure ;)
- There will also be many cabs on the NDSM-wharf
- Party safe!